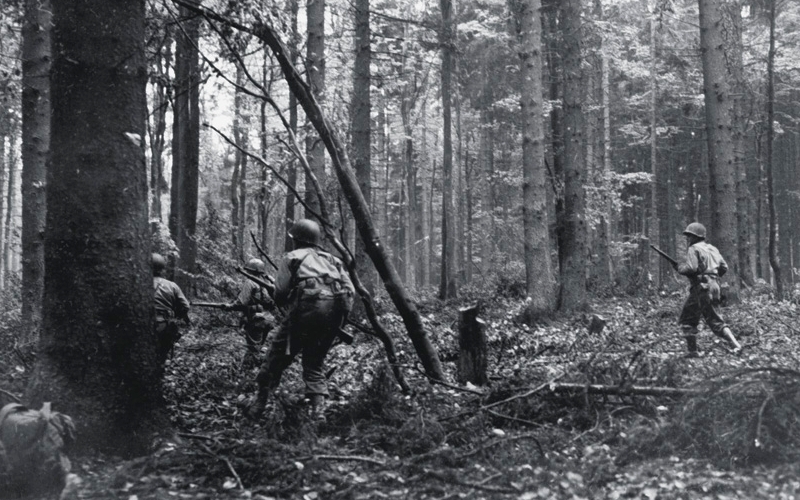 Battle of Hürtgen Forest
American and German forces battle on Germany's western border
2 - 12 November 1944
The Battle of Hürtgen Forest was a series of battles fought between German and American forces in Hürtgen Forest. The battle was the longest battle fought on German soil during the war. The Allies failed to capture the area and the Germans held it until they launched the Ardennes Offensive.
The capture of Aachen consolidated the US First and Ninth armies' positions, and set the stage for an offensive to reach the River Rhine. Generals Omar Bradley and Bernard Montgomery met Dwight Eisenhower at his headquarters to discuss plans. In spite of shortages of supplies and infantry, Eisenhower was insistent that the Germans enjoy no respite from Allied attack. He laid out a plan for a broad-front attack aimed at bringing the Allied forces up to the Roer in anticipation of a subsequent push to the Rhine.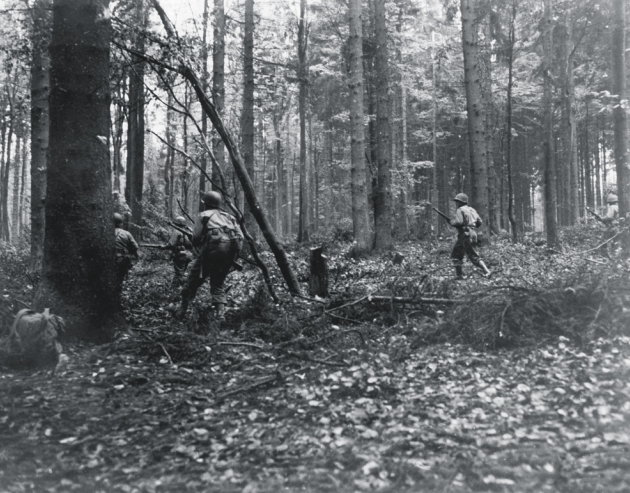 1 of 1
The expectation was that this mission would take a few days, since German resistance in the sector was expected to be limited to a few battered infantry elements of the 275th Infantry Division numbering only about 3,350 troops.
For Bradley's 12th Army Group, the plan was to employ all three armies in a concerted attack with the final objective being a bridgehead over the Rhine south of Cologne. Hodges' First Army was scheduled to launch its attack, Operation Queen, with the focus being in the center with Collins' VII Corps. What would prove to be the most controversial element of the plan was in fact one of its secondary efforts - a preliminary operation to push through the towns in the center of the Hurtgen forest.
1 of 3
The desire to clear this area of the Hurtgen forest had several tactical goals: it was the first step in clearing a pathway to the key road junction at Duren and providing the First Army with tactical maneuver room beyond the constricted Stolberg corridor; and it would serve to undermine lingering German defense of the Monschau area by threatening them from the rear.
2 of 3
Generals Hodges and Collins were both uncomfortable with their flanks exposed to possible German counterattacks out of the forest, though given the terrain conditions this threat was remote. The 9th Infantry Division had already pushed through the western part of the woods. The attack stalled after reaching the open ridgeline that controlled the road from Hurtgen, through Kleinhau and Grosshau, which provided access to the River Roer plain in front of Duren.
3 of 3
The plan underestimated the German defensive potential in the woods and the difficulties of conducting infantry operations in the mountainous forest.
Steven Zaloga, The Siegfried Line 1944-45, Battles of the German Frontier, Osprey Publishing, Oxford, 2007