Battle of Aachen
The Americans capture the German city of Aachen
13 September - 21 October 1944
During the Battle of Aachen American forces battled German soldiers for control of the city. After heavy fighting the Americans captured the town. Aachen was the first German city to fall into Allied hands.
The battle of Aachen was a major engagement of the western front of World War 2. The battle was fought in and around the city of Aachen between American and German forces. After the Wehrmacht's retreat to the German border the city had been made a part of the German Siegfried Line defences, also known as the Westwall. Although the Allies had hoped that the city would fall quickly the Germans put up a tenacious defence which disrupted American plans for that period. The battle of Aachen was one of the largest urban battles fought by the US Army during the war.
1 of 3
Aachen had been Charlemagne's capital and the imperial city of the kings of Germania from 936 to 1531. As a result Hitler was adamant that the city be defended.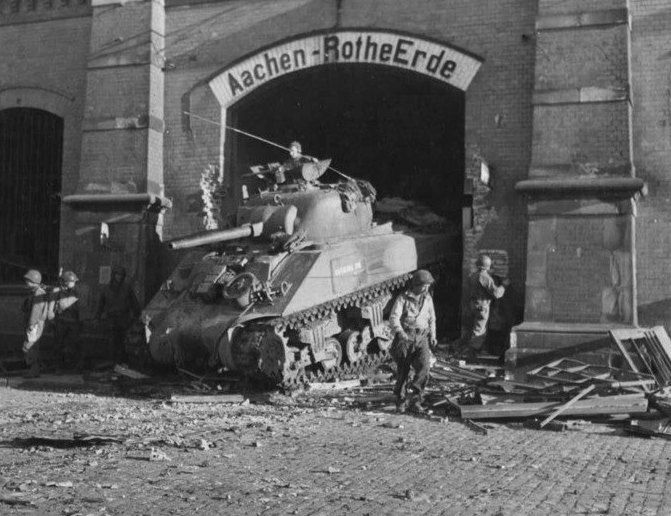 2 of 3
Joseph Collins' VII Corps was moving on a 56-km-wide front towards the Aachen corridor and began battalion-sized reconnaissance probes against the Scharnhorst Line of the Westwall.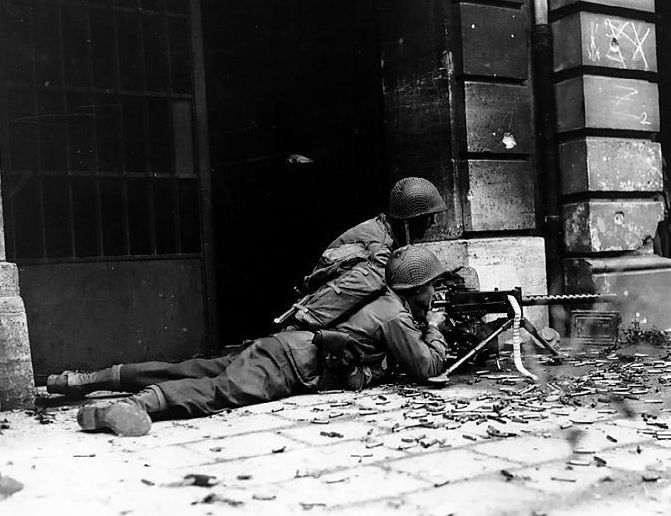 3 of 3
The first US troops to reach German soil were a reconnaissance patrol of the 5th Armored Division, which crossed the River Our near Stalzemburg on the German-Luxembourg border. Although the V Corps made several other penetrations, General Leonard Gerow halted any further attacks in this sector. He realized that his forces were too limited to conduct any deep penetration of the defenses in the wooded, mountainous terrain of the Eifel. After a few brief days of fighting, the Ardennes-Eifel front turned quiet, and would remain so for three months until the start of the German Ardennes offensive in this area.
Hitler issued a Fuhrer directive. There was no room for strategic maneuver now that the enemy had reached German soil: every man was to "stand fast or die at his post." The city was defended by the 81st Corps.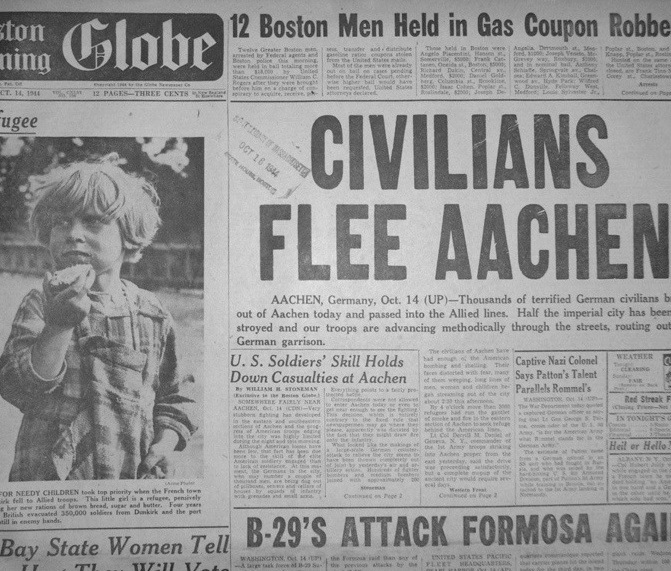 1 of 2
To facilitate the defense, Hitler ordered the civilians evacuated and by mid September, the population had fallen from 165,000 to about 20,000.
2 of 2
The German 81st Corps assumed that the main US objective would be the city, and so assigned the defense to its best unit, the 116th Panzer Division.
Steven Zaloga, The Siegfried Line 1944-45, Battles of the German Frontier, Osprey Publishing, Oxford, 2007